The Mini Baccarat is played under the same rules as American Baccarat, but gives players the opportunity to play the game with the lower betting limits in the much more relaxed atmosphere - you can dress as casual as you like.
The Mini Baccarat table is smaller than the one used in classic baccarat. It has the size of the Blackjack table with seven places for players.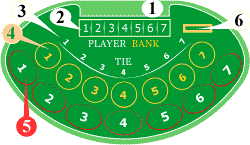 Areas on the Mini-Baccarat Table:
Chip stacks
Commission Boxes
Tie betting area
Banker betting area
Player betting area
The Shoe
Each player has three betting areas in front of him corresponding to his seat.
Croupier seats opposite the players. There is a chip rack in front of him and numbered area used to keep track of the commission that the players owe. The numbers correspond to the number of the players' seats at the table.
A central position of the croupier allows him to reach all areas on the table. In the classic game of Baccarat the deal rotates among the players. In the Mini Baccarat the rituals of passing the shoe are missing and the dealer is always the Banker and the Players never touch the cards.
How to play mini Baccarat
The rules of mini baccarat is not realy different from playing the bigger version of baccarat.
Players make bets according to the Betting Rules
Croupier deals four cards face-up, two to the "Player" hand and two to the "Banker" hand.
Croupier deals (or not) the thirds cards to both or to only one hand following Baccarat drawing rules
Croupier compares hand's values of the "Player" and "Banker".
Croupier collects the lost bets and pays the winnings.
On the winning "Banker" hand Croupier pays 1 to 1 and makes notes of the commission that the players owe, which is collected when the player leaves the table.
Mini Baccarat is very common now in traditional casinos, and is also the form of baccarat offered by online casinos.